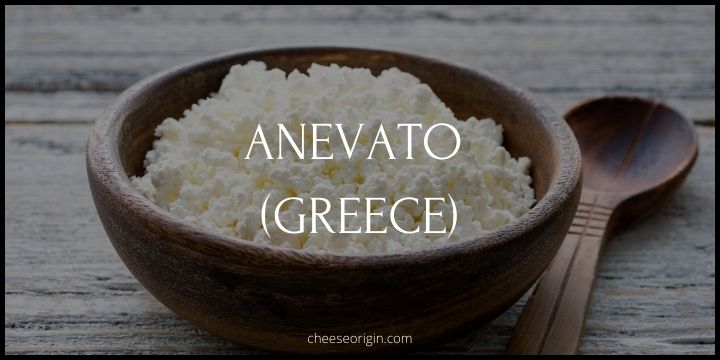 | | |
| --- | --- |
| Country of Origin | Greece |
| Region | Western Macedonia, Grevena |
| Milk | Raw sheep's or goat's milk |
| AOP | Since 1996 |
| Taste | Salty, tangy, has a pronounced flavor |
| Wine Pairing | Mavrodafni, Moschato |
This cheese is made in a mountainous region within a continental climate and from the milk of local breeds Grevenoiotika sheep and goats which are almost impossible to find outside of the region.
The Anevato has the distinction for a fresh cheese of being ripened for two months before it can be sold.
The affineur's duty for this cheese is to ensure that the rind does not form when ripening.
How to Enjoy Anevato
Anevato is often eating alone with a spoon.
Nevertheless, adding it to your salad and savory pastries can be an excellent choice.
Anevato can also be spread on toast and cracker to make delicious and quick snacks.
Our favorite cracker to go along with Anevato:
Carr's Table Water Crackers, Baked Snack Crackers, Party Snacks, Original, 4.25oz Box ,Pack of 6
Delicious crackers with a classic flavor and delicate crunch for a satisfying bite every time; Excellent to serve at formal or casual gatherings of any size
Crisp, flaky crackers with an original taste that will satisfy the host and guests alike; A great canvas for your favorite toppings including cheese, deli meats, nuts, fruits, vegetables, and more
Made with quality ingredients for excellent taste and texture; Non-GMO Project Verified: RSPO Certified Sustainable Palm Oil; Contains wheat ingredients; May contain milk and soy ingredients. State of Readiness: Ready to Eat
Stock your home pantry so you're ready for any impromptu gathering with family and friends; A staple for any cheese or charcuterie board
A 4.25-ounce box containing Carr's Original Table Water Crackers; Packaged for freshness and great taste
More Cheeses From Greece:
Last update on 2022-06-27 / Affiliate links / Images from Amazon Product Advertising API